A-1/A-John Portable Toilets has multiple portable toilet units for rent. We have anything from a basic toilet to a unit that flushes. Our regular portable toilet comes equip with a urinal, standard comfort seat, 3-roll toilet paper dispenser, and air vents. The standard portable toilet rentals are perfect for backyard parties, BBQ's, graduation parties, family reunions, family gatherings, and so much more! Any event big or small, our standard portable toilets can get the job done!
One step up from the typical standard portable toilet are our signature units. These units are very similar to a standard portable toilet. The main difference is they have running water! These luxury units have a sink, non-splash urinal, comfortable seat, ventilation systems, and a vanity mirror. Signature portable toilets are perfect for upscale events. Need a little something extra for a wedding venue? This unit is exactly what you're looking for!
The high tech units we have are one of the best units available without upgrading to a trailer. High tech portable toilets are solar powered! We can also supply a small push light, when asked, to ensure there will be light throughout the night. High tech portable toilets come equip with a stainless steel bowl, urinal, sink, mirror, and a spot for soap and paper towels. This unit has both a pump flush sink as well as a foot pump flush. All you need is a standard garden hose to fill the tank and you'll be all set for your event! High tech toilets are roomier than the signature units that we have. Looking for something for a high end event? This is the toilet for you!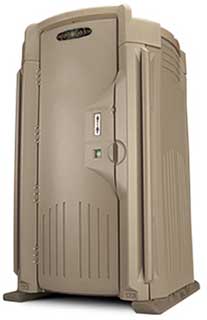 The number of any of these units needed for an event depends highly on how long the event is and how many people will be attending.
**Give us a call today and let us help your event run smoothly!**