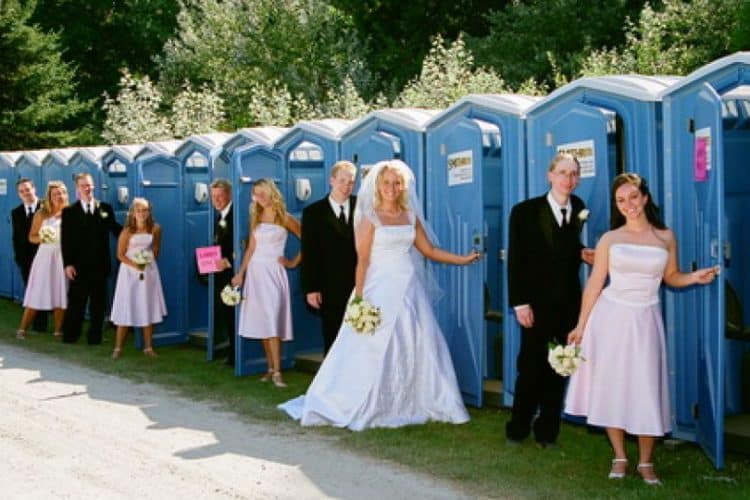 What better time than now to have an unforgettable wedding in the Hudson Valley. The breath taking views the Hudson Valley has to offer can be spotted year round! Nothing beats the fall as the leaves are changing color. It's so easy to get swept away for a few moments while soaking in the view. There are countless factors to take into consideration when planning a wedding. Every detail from the flowers on the table to the perfect dress for the bride, has to be perfect.
Let's cross one "to-do" item off your list! Portable toilet rentals are made simple with us. Once you know the location and have an estimate as to how many people will be attending, we can help with the rest. Our staff is phenomenal when it comes to picking out the best unit for your big day!
We have anything from stand alone units to multiple stall trailers. Below are just a few rental options for your special day:
*High Tech Toilets- self contained unit, pump flush, pump sink, stainless steel bowl, solar light, and urinal.
*King Toilets- incandescent lighting, sink, fresh water flush, switch mat activation, self closing faucet, also available with heat.
*Handicap Accessible- wheelchair accessible, non-splash urinals, and a large seat for comfort.
*Jag 2- accommodations for both men and women. Men- sink, urinal, and stool. Women- sink, and stool. Both men and women have air conditioning, heat, hot water system, lights, mirror, stereo, and is winterized for use year round.
*King Trailer- separate stall for women and men, sink, urinal for men, lights, air conditioning, and hot water.
*Jag 4 Solar- 2 stools for women, 1 stool and 1 urinal for men, sinks, air conditioning, heat, hot water system, lights, mirror, and stereo.
If you have any questions, call us! Our staff is more than willing to help with all your portable toilet rental questions and concerns!