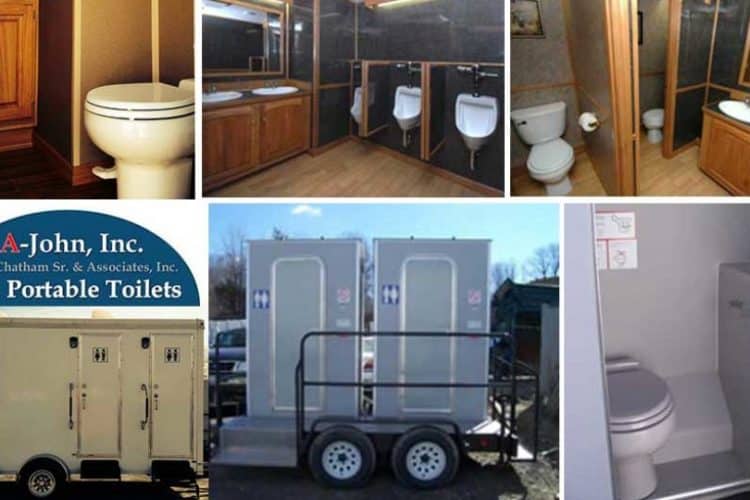 Solar Portable Trailer Rentals from A-John/A-1 are a great alternative for your next event or function. Our solar powered portable toilets are wider, taller and roomier than many traditional portable toilets. They are perfect for private events, weddings, corporate events, family reunions, sporting events, company picnics and more.
Solar portable restroom trailer rentals are available in 2 stall, 3 stall, and 4 stall varieties. Depending on the make and model, amenities include: interior lighting, running water sink, soap dispenser, porcelain fresh water flush toilet, self-closing faucet, in-use light, mirror, AM/FM stereo music system and more. These features all operate without electric, just on solar power. Also available is air conditioning and hot water, which do require electricity and a water supply via a standard garden hose.
Please click here for complete specs on our solar portable toilets available for rental.
Also available from A-John/A-1 is the Eltia 28′ Solar, one of the newest, biggest, and best portable restrooms you'll ever see. This is not your standard porta potty! Build right on a trailer platform, it is perfect for weddings, gathering and events of all types. It measures over 28'x 8′, and has these amazing features: Women's Accommodations: four china flushing water saver stools, two china sinks; Men's Accommodations: one china flushing water saver stools, two china sinks, three urinals, Both Accommodations have: air conditioning, heat, hot water system, lights, winterized for year round use, mirror, stereo, built-in trash receptacle, Formica marbled walls and counter tops and lovely simulated wood floor. People often comment it's nicer than their home bathrooms! This unit will operate without electricity, but please note that the use of AC and hot water does require electricity.
See our solar powered portable toilets available for rental here.
A-John/A-1 is the Hudson Valley's provider of portable toilet rentals for construction sites, emergency needs, and events of all sorts. Call us at (845) 778-7795 for expert advice and excellent solutions for portable toilets, portable sinks and hand wash stations, portable showers, hand sanitation and more. Or contact us here.